In the world of trade shows and exhibitions, creating an impressive and effective booth is essential for attracting visitors to YOUR stand and making a lasting brand impression.  
When it comes to designing your company's exhibition stand, two primary options are commonly considered: bespoke stands with reusable components and modular reconfigurable stands. Each option has its own set of advantages and disadvantages, and the choice between them largely depends on your specific exhibition objectives and budget.  
In this blog, we will explore the pros and cons of both bespoke and modular exhibition stands to help you make an informed decision for your next tradeshow.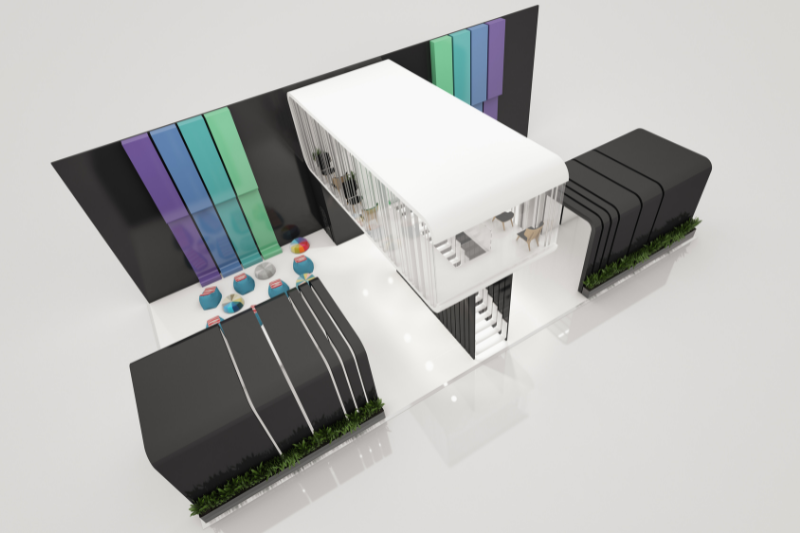 Bespoke Exhibition Stands with Reusable Components
Pros:
High Production Values: Perfect fit for you! There is nothing like a bespoke stand to allow for a high level of customisation and attention to detail. Of course, there might be budget limitations, but a bespoke stand can be designed to completely reflect your brand personality, key company messages and event objectives, providing a professional and polished appearance.
Event-Specific Creativity: Graphics, copy, logos, layout, testimonials, you name it, a bespoke stand can deliver it – it offers flexibility to create something unique, incorporating creative elements that align with the theme or purpose of the exhibition. This customization can significantly enhance engagement with attendees, increase footfall onto your stand and support sales conversions.
Maximised Stand Size and Space: With a bespoke exhibition stand solution, you can make the most of the exhibition space hired. Designers can optimise your booth's layout to ensure it stands out and attracts visitors, making the most of every square inch that you've paid for.
Cons:
Higher Per-Event Costs: The question here is, how many similar events might you do over the course of say 12 months? Bespoke stands typically come with higher per event costs, including design, construction and installation. While they offer complete flexibility, this comes at a price that may not be feasible for every event or marketing budget.
Limited Economies of Scale: Since each bespoke stand is tailored to a specific event, there are limited opportunities to realise economies of scale. This can result in higher costs when compared to modular alternatives for multiple events.
Limited Reusability: While certain components of a bespoke stand may be reusable, such as welcome desks, literature stands, TVs and lighting – often customised graphics, walls and flooring may not be suitable for reuse, but if they're not reused, are they wasted? This calls sustainability into the frame – what happens to your 'no longer required' exhibition walls and does this fit with your brand policies?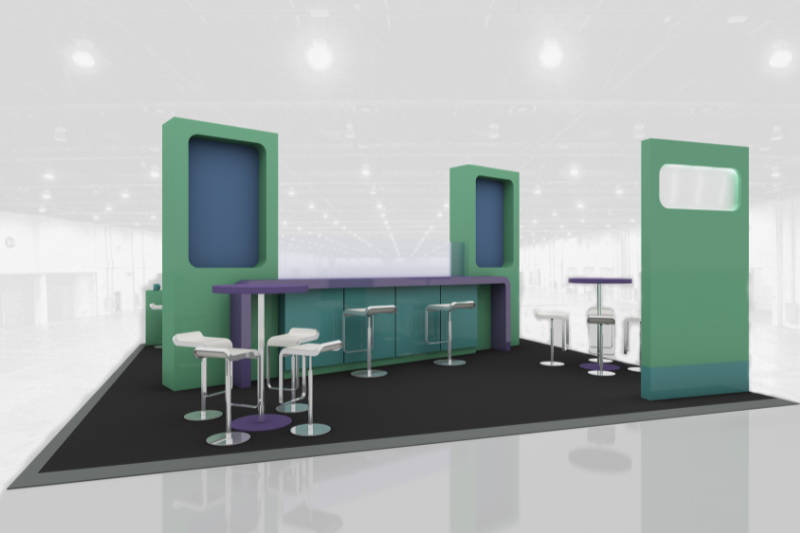 Modular Reconfigurable Exhibition Stands
Pros:
Cost Efficiency: Modular stands offer significant cost savings in the long run. The initial setup cost covers the reusable framework and generic graphics, and you can reconfigure it for multiple events in the tradeshow calendar without incurring additional major expenses, giving great economies of scale over time.
Professional Appearance: Modular stand manufacturing has come on leaps and bounds over recent years and are now quite sophisticated, designed to look professional and presentable. They provide a professional, clean and polished appearance, making a positive impression on attendees.
Scalability: Modular exhibition stands are highly scalable. You can adjust the size and layout of your stand, by adding or removing components and switching up the configuration, adding walls, opening the sides, adding a ceiling etc. making them suitable for different stand sizes
Transport Efficiency: Modular stands are generally manufactured out of lightweight aluminium materials and fabric, designed to pack down into a small space, making transportation easier and more cost effective overall.
Cons:
Generic Creative Approach: There are two parts here, the actual framework which allows for some flexibility in creative layout, but possibly more importantly the actual graphics – if the messaging is too event specific, they will be difficult to repurpose for future tradeshows. If they are too generic, will they make the impact you are trying to achieve?
Careful De-Rig and Packing Required: Disassembling a modular stand requires careful handling to ensure all components are undamaged, packed appropriately and ready for reuse. This can be more time-consuming than dismantling a bespoke stand, and items will need to be safely transported and stored in a clean and secure warehouse until their next use.
Additional Modules for Larger Stands: To accommodate larger stand sizes, you may need to hire additional modular elements to fit your revised footprint. This can increase your costs, not just of the additional framework but the graphics, flooring and lighting too. Careful planning and budget management will be required to ensure costs don't spiral.
In conclusion, the choice between bespoke and modular exhibition stands boils down to your specific requirements and budget available. Bespoke exhibition stands offer unmatched creativity and event-specific customisation but come at a higher per-event cost. Alternatively, modular exhibition stands provide cost-efficiency, scalability, and ease of transportation but may lack the same level of creativity and uniqueness. Carefully assess your company needs, objectives, and budget constraints to determine which option aligns best with your exhibition strategy – consider the environmental and brand impact of these decisions too.