Tell us about your role at FMI?
I'm a Senior Account Manager working across a number of large blue-chip accounts. My role is varied, but predominately delivers comms projects; be that for top-level sales meetings to staff incentives, multi-language and multi-platform. Day to day I manage complex budgets, schedule project plans and deadlines and (probably my favourite part) work with our creative studio. I've been working from our Chilton office for 15 years and have worked for FMI for exactly 10 this June!
What clients do you work with? 
My primary clients are Mazda Central and South East Europe, Jabra and LG Electronics but over the past 10 years I've worked with a variety of clients from the telecoms, electronics and automotive sectors.
Tell us about a campaign or project that's been really memorable/successful?
I've really enjoyed recently working with the studio to produce the creative designs for a bespoke European reward and communication site for Mazda Sales and Service staff. As a result of this success we have been commissioned to work on a complete Sales Experience comms plan for Mazda.
What did you study at university/college?
I studied Industrial Design and Technology at Loughborough University, a large part of my degree was all about project management and budgets! As well as being very problem / solution driven ?
How did you discover FMI? 
I have worked from these wonderful offices since 2004, originally for The Indeprod People Company who went on to buy Oxford Motivation. In 2009 Indeprod went into administration, Oxford Motivation bought themselves out and became FMI – the rest as they say is history!
Where do you see FMI being in the next five years?
We're going from strength to strength, so a continued focus on brand engagement, with an extended range of clients, a little larger with a greater focus on social engagement tools.
What's the FMI team like?
Positive, hardworking, a sense of creating great results whilst still enjoying life.
Do you have any pets? 
Yes! Molly our very friendly, very fast, beautiful Whippet – she has just turned two and we all adore her!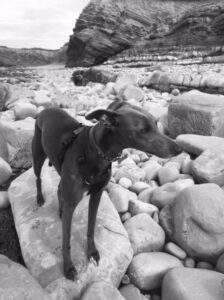 What job did you want to do when you were little?
I didn't have a particular job in mind, but I've always loved making things, so the creative solution side of this job satisfies that!
What was your first car?
A Renault 5. This was a car you could easily break into – and it frequently was, you could change the headlight bulb with no professional input and it required regular oil top ups – and yes it did have a manual choke! This car doesn't have as many stories as my Peugeot 205 however, which was set alight in La Rochelle in 1995…
Where are you most likely to be found outside of work?
Walking the dog obvs! Cooking – love cooking and more importantly eating with friends and family (two kids and one husband!). Fundraising… I'm Chair of our PTA, we raise over £10k p/a not bad for a tiny primary school! Joggetting (a slow jog – often with the dog!), taekwondo – a new ambition of mine! Village panto… I've been in two productions, we have a stellar back stage crew from our Director who's a Sky Sports cameramen to the chap who made the props for the Harry Potter movies!
How do you take your brew?
I normally go for a big mug of tea – quite strong, with a good slosh of milk, though the occasional frothy coffee goes down well too.
What was your first job?
My very first job was aged 13 at our local shop, which is now a Tesco Express; I cycled there every Saturday morning; jobs included stocking the shelves and serving on the till (which didn't calculate the change!). I moved onto the heady heights of waitressing and then once I could drive I did loads of temp jobs in my holidays from working in a bakery to selling trellis. My first 'proper job' was at an agency in Dorking, I worked on the Orange account primarily printing maps of the UK showing their coverage and sending them out to 300 shops – how things have changed.
To chat to Lisa or one of the FMI team, please get in touch with Lisa directly on lisa.dimbleby@fmiagency.com.