Flying high with Heathrow Airport
At FMI we specialise in events management and have over 30 years' experience in creating bespoke occasions which delight and inspire our clients.
Which is why we were thrilled when Heathrow Airport asked us to pitch for their annual recognition awards– the Heathrow Star. It's known as a stand out event in their calendar and offers star employees the chance to celebrate all the hard work and commitment from the previous year.
Reaching new heights for Heathrow's annual recognition dinner
During the pitch process, it was important to us that we presented a theme which we felt would resonate with all of the Heathrow team. We wanted to showcase the company's values and behaviours, but also make it about the attendees, who had gone above and beyond in their jobs.
Internally, the employee recognition dinner is known as the Heathrow Star event, with awards given out for a range of different categories relating to the company's ethos. This became our main inspiration during the pitch. We pushed the boundaries of the theme though and came up with a concept around star performers, which then lent itself to a new creative vision, focusing on Cirque du Soleil as the inspiration.
A big top event
Having pitched against other agencies, we were delighted when our creative approach was chosen, and we became a new partner for Heathrow Airport.
We went to work on the event straight away, working with the team on production, set and staging, entertainment, theming and the creative elements which had made us standout during the pitch process.
The decoration was key, as we needed the event to look and feel special. Table decorations, balloon arches, a selfie mirror and a circus-themed green screen and silhouettes were all used to tie the theme together and give the occasion a sense of grandeur.
The selfie mirror was a great interactive element on the night and was incredibly popular, with photographs being printed there and then for guests to take home as keepsakes of the night. Other added extras which gave the occasion a personal touch included branded Toblerones which showcased the winner's names and a drinks reception to start the celebrations in style, with strolling close hand magicians interacting with the guests.
After the awards ceremony and dinner the evening culminated in a DJ and disco to bump the party atmosphere up a notch and allow the invited guests to enjoy the evening on a high.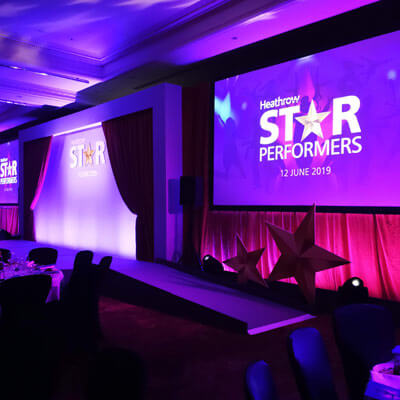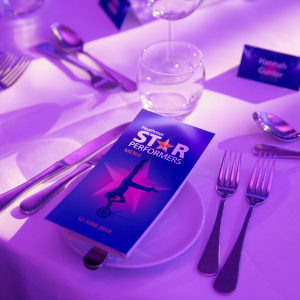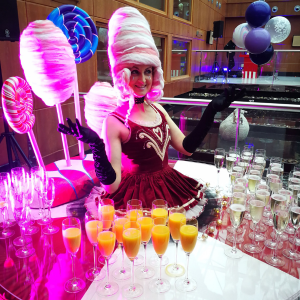 A fly-away success
The night was a complete success for not only our team, but for the team at Heathrow Airport. We've had some wonderful feedback, with one of the Heathrow team emailing us at a later date to thank us for our work. His email read:
"I know it takes a lot to make an event of that calibre a success, the planning was meticulous and its execution as equally impressive. Having a look through my emails and our internal social media it's awash with praise from colleagues and as I know our CEO has rated it "best yet" so it's a job very well done."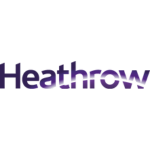 For us, that's what makes our job worthwhile. We love what we do when it comes to planning and preparation, but to see an event come to fruition and be so widely enjoyed, it really does make it all worthwhile.
If you need inspiration or support for your next event then get in touch