Delivering social media marketing with impact
In July 2020 HUAWEI unveiled their commitment to significant investment in the UK high-street with plans to launch three new HUAWEI Experience Stores and Customer Service Centres – we saw the first open its doors to the public at Westfield Stratford in London's Olympic Park, in early December 2020.
COVID challenges aside, the state-of-the-art retail store delivers on its promise to fully immerse customers on their ambition of a 'Seamless AI Life' and features HUAWEI's full ecosystem of products including smartphones, laptops, tablets, headphones, smartwatches, home tech innovations and more.
As a long-term agency partner of HUAWEI, FMI were approached by the Trade Retail team in November 2020 to support with social activity for their new experience stores Facebook Page. Starting from nothing, they needed to 'put the store on the map' and build an engaged following. With tight timelines we created a social strategy and worked quickly to produce a series of high-profile assets for a teaser campaign designed to do just that and generate excitement around the store opening – in a turbulent retail environment (due to COVID restrictions) it was important for all messaging to be clear and that people were kept at the heart of the content.
The Brief
In anticipation of the launch of HUAWEI's first UK Experience Store HUAWEI approached FMI for support to deliver a social media marketing campaign to build awareness, promote a premium UK customer experience and ultimately drive footfall to store.
Campaign content needed to work across various social platforms including HUAWEI's Community Blog delivering a clear message and call to action. An additional objective from HAUWEI was to drive social traffic via our dedicated HUAWEI  engagement platform, N:GAGED, which had a trade retail and call centre audience of over 6,000 members.
Based on the brief, the below social media campaign was born. Centred around a daily countdown teaser, designed to build excitement and awareness as we approached store opening. All creative assets maintained an overarching style with content focussed around HUAWEI's values and innovations.

It was important to not only reflect HUAWEI's existing brand identity (mainly known for smartphones at the time of release) but also take influence from the UK market, HUAWEI's technology innovations, and their aspiration to build upon their successes and support local communities.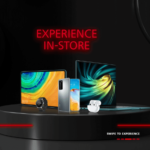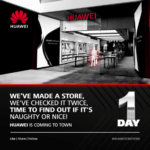 The Results
The social media activity was well received and achieved over 600 Facebook Page Likes within the 10 day campaign period – which equates to 80% of their existing social audience. Shortly after opening, the store temporarily closed its doors to the public to adhere to UK COVID lock down restrictions, recently re-opening on 12th April 2021.
If you're looking to communicate with engaging social media marketing then get in touch