FMI were the marketing agency of choice to support Amdocs with event branding for their annual summit event
As part of our ongoing partnership with Amdocs, FMI worked with the North American marketing team in the creation of key messages and a suite of high level creative assets to support their 2017 Annual Summit event held in the stunningly beautiful location of Muskoka, Canada.
The objective of the event was to excite senior management and encourage and inspire them to become strong business leaders. FMI explored an overarching event theme called 'Shine' on which to anchor the event, along with the challenge of weaving 4 key business pillars into all communication collateral.
FMI developed a thought provoking campaign using striking and impactful imagery to convey the different ways in which individuals can lead, inspire and motivate. The campaign was rolled out both online with an email campaign, website banners and PowerPoint presentations and offline with pull up banners, branded merchandise and printed collateral. Event highlights included an opening and closing video designed to focus the minds of attendees and reinforce key messages, and a series of individual staff video stings to share what the 4 key business pillars means to them.
The NAM marketing team were thrilled with the results and the event was very successful for all.
CLIENT
Amdocs
CATEGORY
Comms
DELIVERABLES
Event identity
Creative concepts
Opening and closing videos
PowerPoint presentations
HTML emails
Pull up banners
Branded Merchandise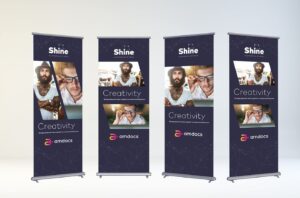 "You are truly the BEST! Love working with you guys, you simply get it!"