From 'Wheels and Fins' to 'Henley Festival' FMI are an award winning experiential marketing agency that have pretty much done it all…
Huawei has previously been considered a value for money brand within the mobile phone sector but with the Spring 2016 launch of the P9 range it is now fighting in the premium sector. By sponsoring the prestigious Henley Festival this provided Huawei with the ideal opportunity to introduce the P9 to a new consumer audience, specifically users of high end smartphones.
Huawei go to Henley!
The Henley Festival is the premier and only Black Tie Festival in the UK. Delivering an experiential activity for the Huawei P9 at this event elevated the brand and product alongside brands such as BMW, Lanson Champagne and American Airlines.
The event spans 5 days so provides ideal exposure to large numbers of festival goers, however on each evening there was only a 2 hour window in which to effectively engage with consumers before their attention switched to the main event acts such as Sir Elton John and Dame Shirley Bassey.
The very nature of being at a British, outdoor, music festival on the banks of the River Thames brought with it a unique set of challenges, the British weather being the main one. Our solution was to construct a consumer experience that communicated the USP's of the Huawei P9 and locate it inside a branded, inflatable dome that would afford sufficient space for visitors but also protection from the elements should it be required.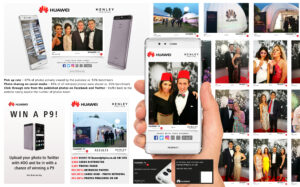 As a retail proposition is neither appropriate nor possible at the Festival, the objective of our campaign was to ensure maximum brand awareness and to encourage consideration at the point in time when the consumer is purchasing a new smartphone. We wanted to achieve this by offering a fun experience that educated but also rewarded consumers with high quality souvenirs from a premium event.
Hands-on product experience and social media sharing
The key focus of the product revolved around its photographic capabilities and therefore demonstrating these advanced product features was key. During our limited window with consumers our staff engaged with them and invited them to 'enhance' their festival outfits with fun, flamboyant accessories (feather boas, hats, and assorted props) prior to posing in front of a themed 'paparazzi' backdrop. To fully show off the P9's capabilities a professional photographer took their portraits, both individually and in groups, using the Huawei P9. Festival goers were then presented with a card containing a web address from which they could view, download and share their professional souvenir photos from this glamorous event. As an added incentive, a brand new Huawei P9 was given away each day to one lucky winner that accessed, downloaded and shared their images to their personal social media utilising the campaign hashtag.
Huawei targeted interaction with 500+ consumers across the anticipated 2 hour window per day across the 5 days which were more than exceeded.