How staff rose to the top, for a Middle East experience
Working in the incentives sector, we love nothing more than when clients allow us to get creative with their brief. We've delivered a variety of imaginative campaigns during our decade in business all of which have been unique in their own ways.
For us though, the focus always remains on ensuring that the incentivisation of staff results in increased motivation and productivity, and in many cases, increased sales! Specifically within the telecommunications incentive sector, we work towards driving positive behaviour to deliver rewarding results when developing any incentive campaign.
Our work with Three continues to drive sales
Three (H3G) approached us for strategic support on increasing sales of Huawei mobile phones at their Capita call centre in Glasgow. They wanted us to develop and deliver a sales incentive campaign that would encourage, motivate and incentivise staff to sell key Huawei devices.
That is how 'Aim High for Dubai' came to be.
We knew we needed an incentive mechanic that would motivate staff and encourage them to work hard in order to jet off on a once-in-a-lifetime trip to Dubai, as well as increasing sales for Three and their chosen manufacturer, Huawei.
Aim high for Dubai with Huawei
Our sales incentive programme ran for four weeks in total, allowing call centre staff enough time to put their knowledge of Huawei products to good use and sell them to both new and existing customers.
During this time, it was revealed to staff that if they exceeded their sales targets during this four-week period and went above and beyond to promote Huawei products, they would be in with a chance of winning an all-expenses paid trip to Dubai.
From bonny Glasgow to sunny Dubai
At the end of the month-long incentive programme top performers, based on a pre-agreed criteria, won themselves a place on a once in a lifetime trip to discover the rich culture and incredible architecture of Dubai.
FMI proposed Dubai as the leading destination as the direct flights from Glasgow meant there was no need to reroute via London, gaining valuable time at the destination. From Glasgow International, the 4-day trip included a stay in the luxurious 5-star Jumeirah Beach Residence. As if that wasn't enough, winners of the incentive programme were also able to discover 'old town' Dubai, exploring the spice and gold souks as well as a visit to the Burj Khalifa.
This exploration of culture was then counter-balanced with an excursion into the desert for a desert safari, including dune bashing and an authentic Bedouin dinner. FMI provided end-to-end event management including pre-event logistics, ground programme and an onsite event manager.
It's safe to say that the trip winners loved experiencing Dubai and all that it has to offer, but the trip has also resulted in an increased awareness and understanding of Huawei and its products within the mobile phone industry.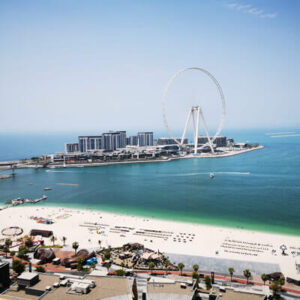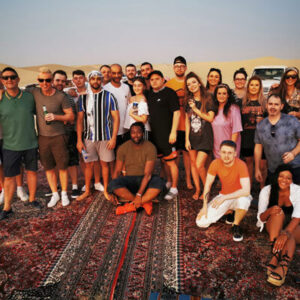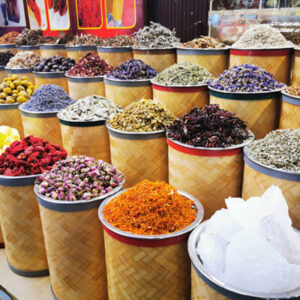 What did people think?
The campaign was well received by staff, with them showing great enthusiasm and participation in all group activities, all of whom were motivated to excel in their role by this amazing opportunity to visit Dubai. The incentive also inspired a lot of healthy competition among staff demonstrating an increased engagement rate.
After the trip, we received feedback from our client at Three about the delivery of the trip, which further consolidated the success of Aim High for Dubai.
"On behalf of Three and my team we've been really impressed with yourself and team from FMI.  We've been able to successfully execute two different briefs for different audiences and had amazing feedback from our Partner teams internally."
 Want to do something similar for your staff?
 At FMI, we're experts in developing incentive programmes that are guaranteed to motivate, engage and ultimately incentivise sales staff to ensure they excel in their role and are rewarded accordingly.
We have international experience, endless enthusiasm and the capabilities to work as an extension of your team – plus, we're passionate about what we do!
If you need help planning a sales incentive for your team then get in touch